CARRERA COMPACTA
Motorcycle Protective Equipment Thesis project.
THE BRIEF
Design a solution that improves the safety of motorcycle users, to reduce life threatening injuries without compromising their comfort.
Head & spine protection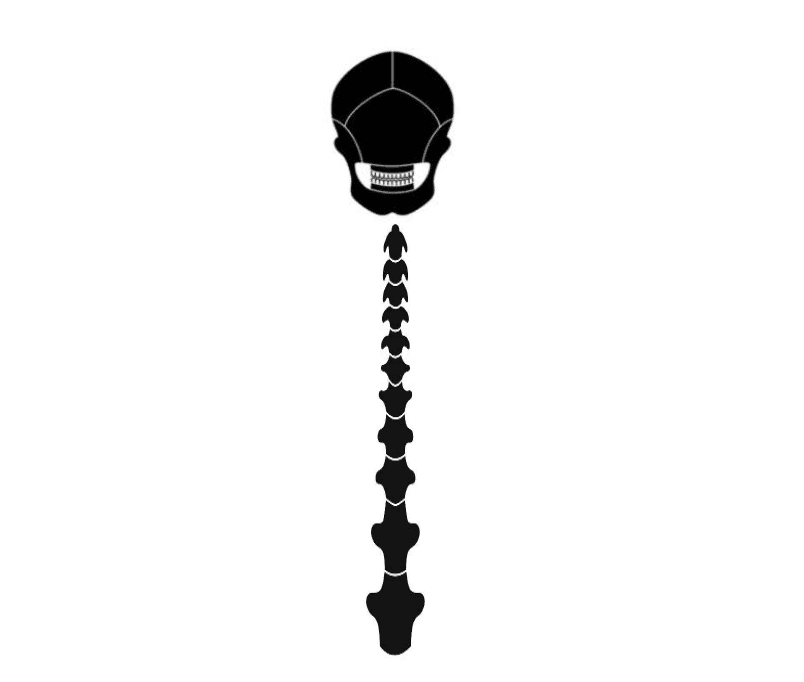 Ventilation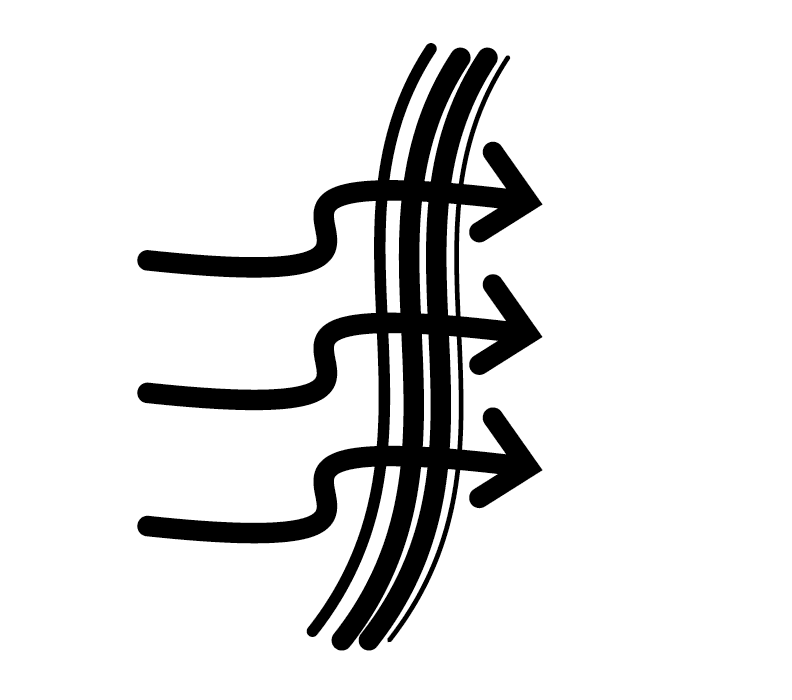 Visibility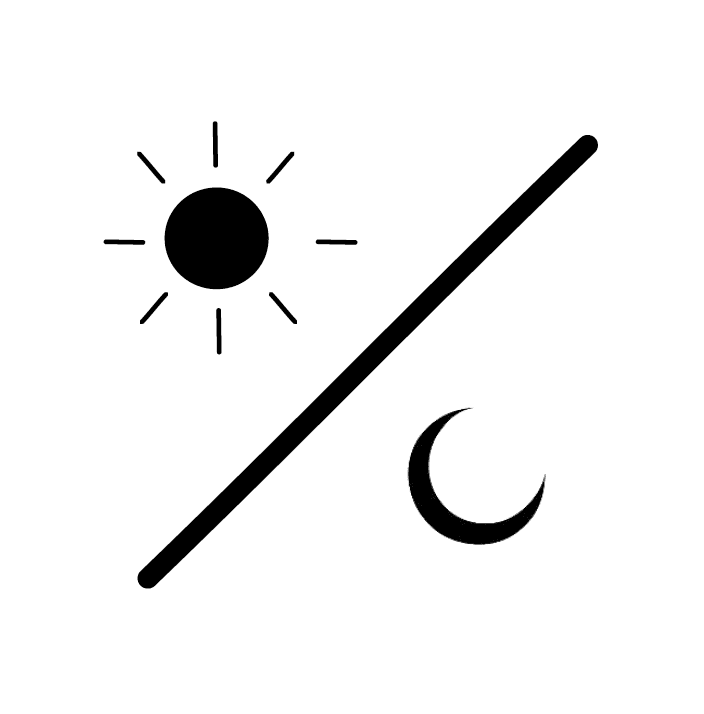 RESEARCH
User behavior and product research was conducted to find the needs not met by current solutions, and define areas for improvement.
Persona
Joe Martins
26
Architect
Income of $ 90 000 a year
University Grad
In a relationship
Lives in Toronto, ON
Rides motorcycle most weekends from spring to fall and an average of 3-5 hours per day
Attends bike meets regularly
Stays in shape
Other hobbies include Snowboarding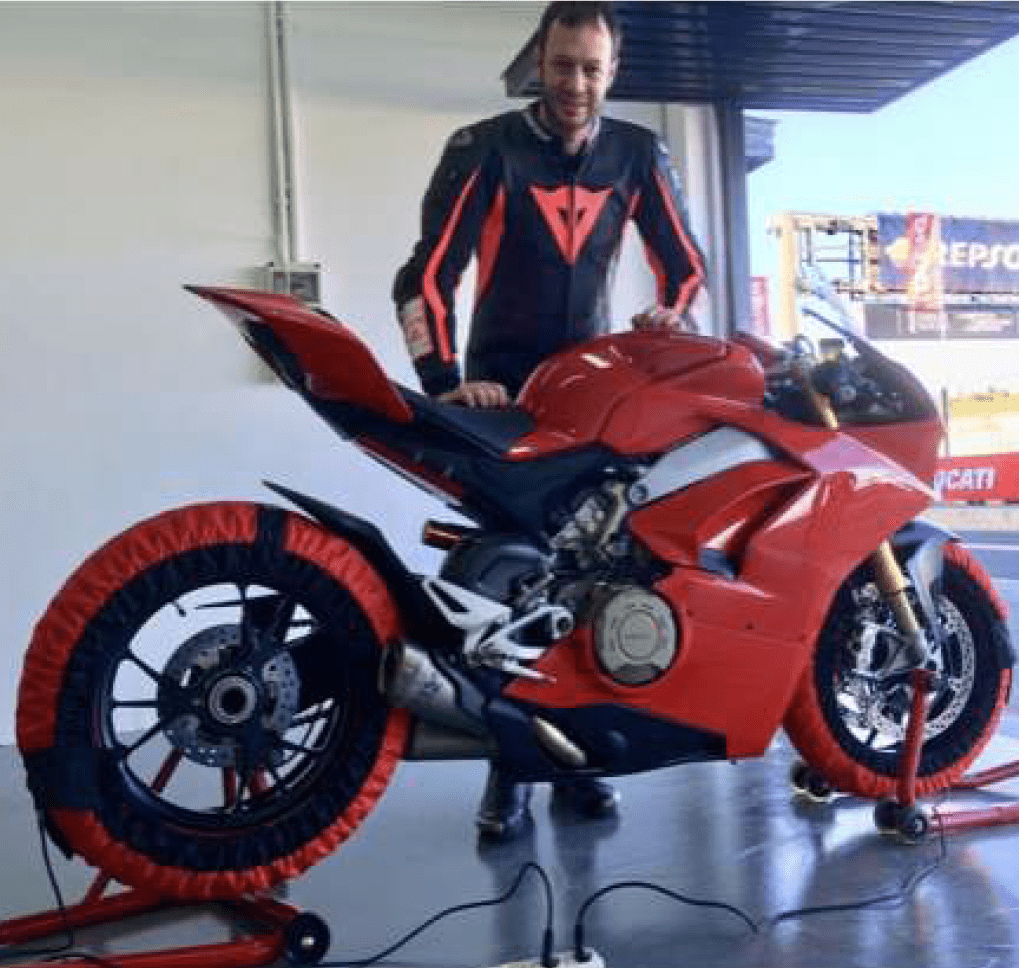 Different scenarios of motorcycle crashes were analyzed to find the main parts of the body that need the most protection during a collision. Velocity and time patterns during a collision were examined to understand how the incoming forces affect the body upon impact.
Struck by another vehicle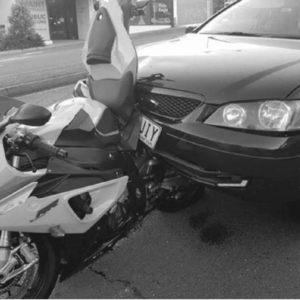 Endover ejection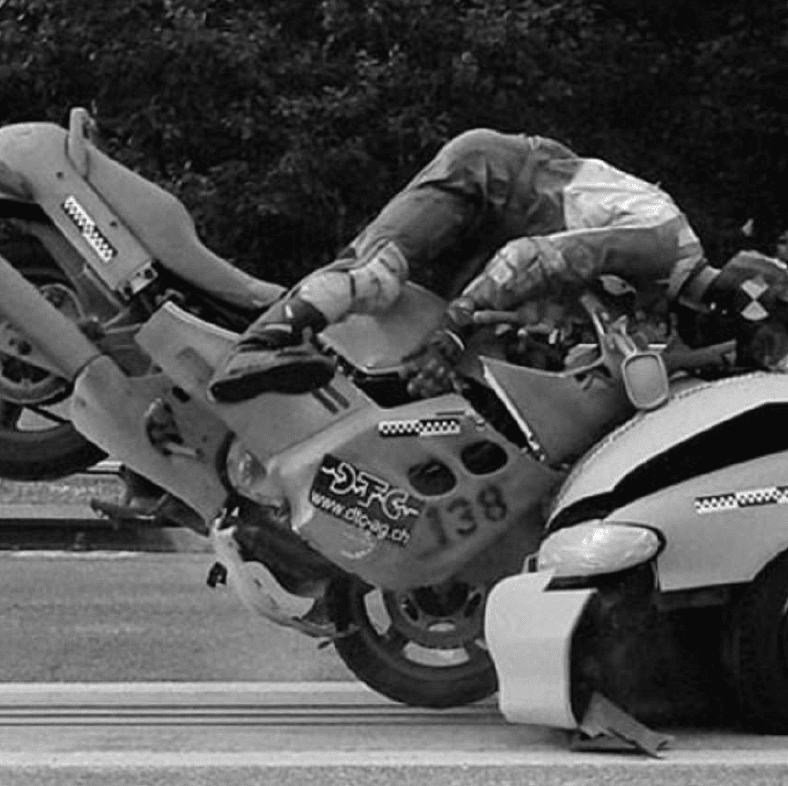 Highside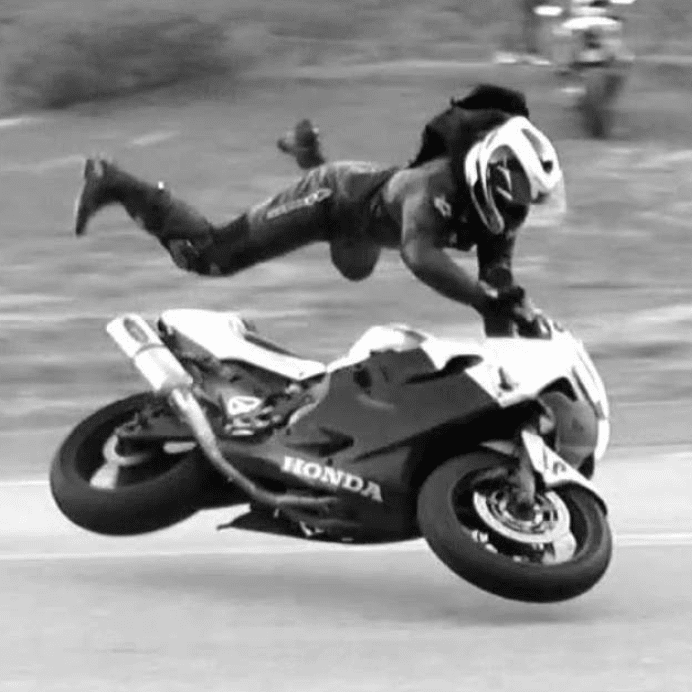 Lowside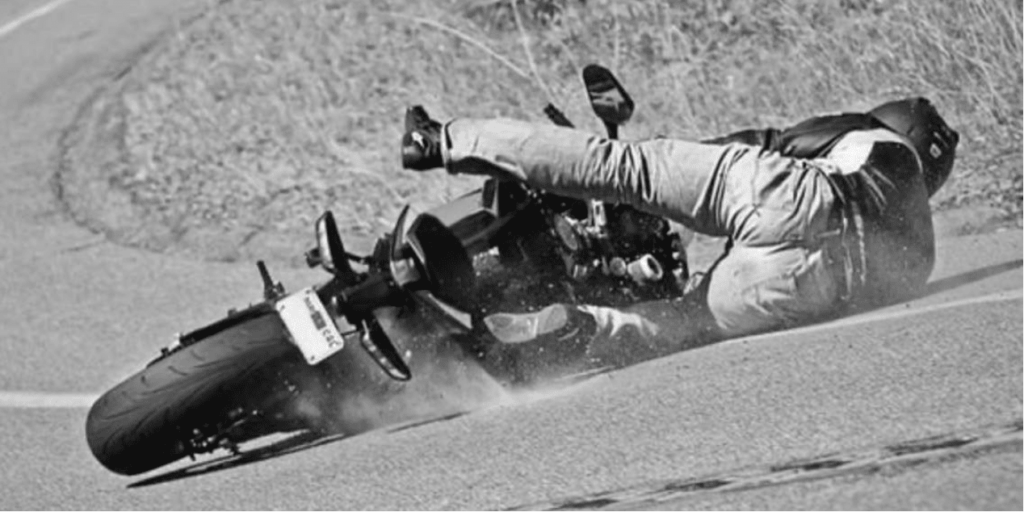 Speed vs severity of injury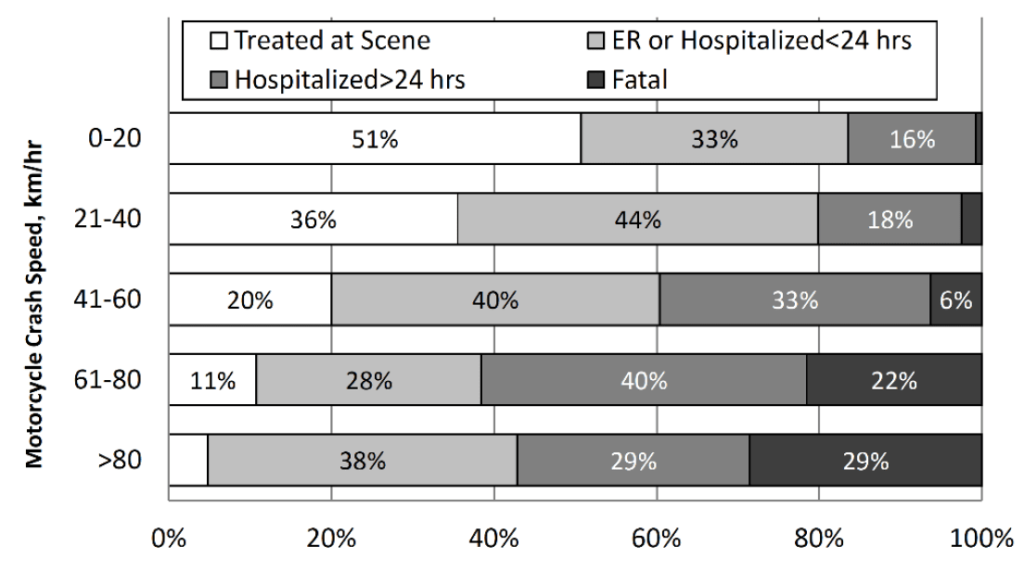 Head and spine injuries and are the leading causes of fatal crashes and also the most common. These dramatically increase the medical costs needed to provide care for patients.
Materials
Innovative materials and wearable tech were researched to find alternatives in the methods used to provide the highest possible levels of safety.
Robotics embedded in apparel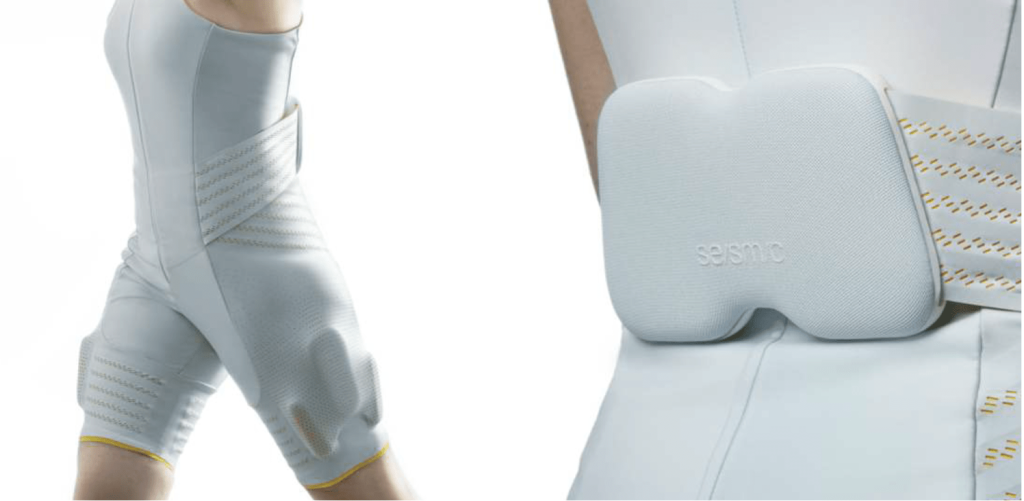 D3O impact technology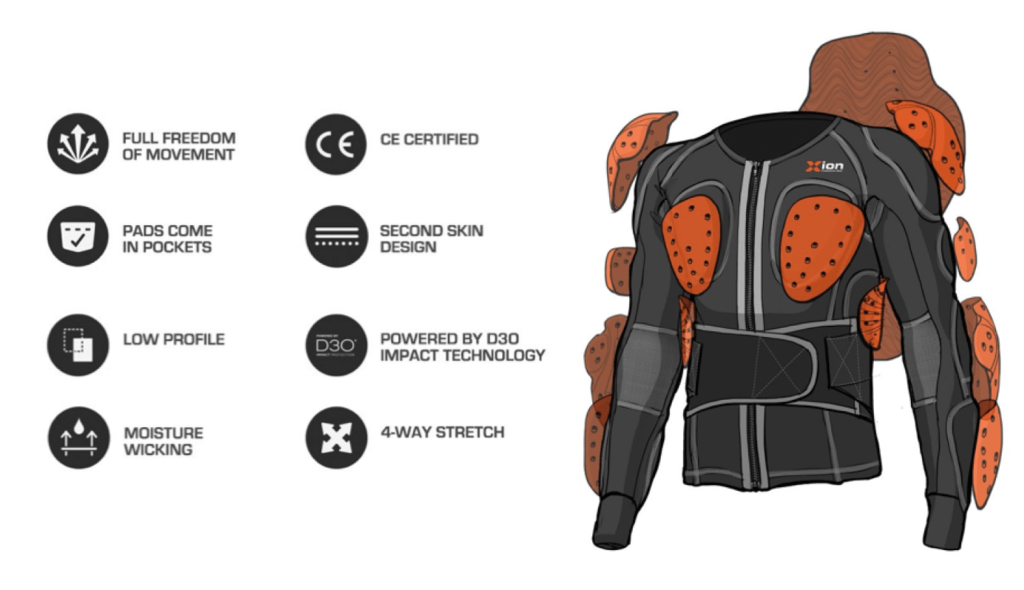 Mushroom leather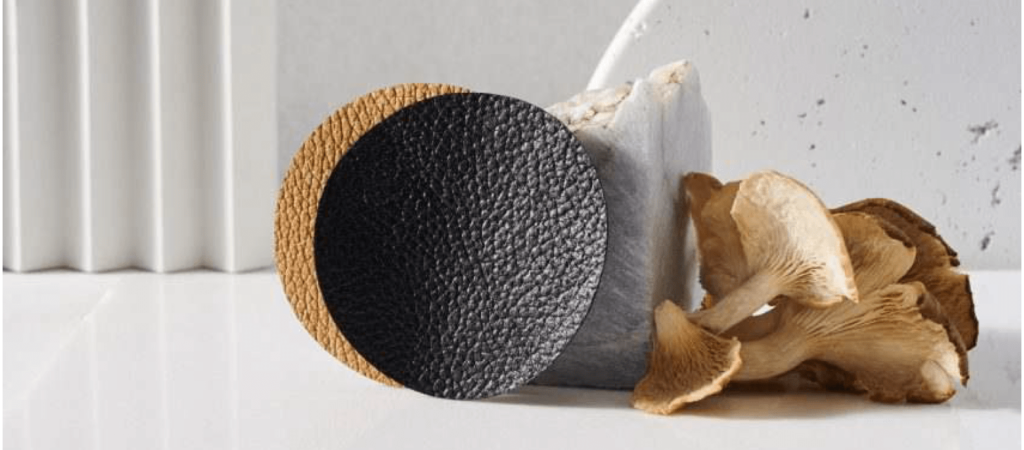 3D knitted spider silk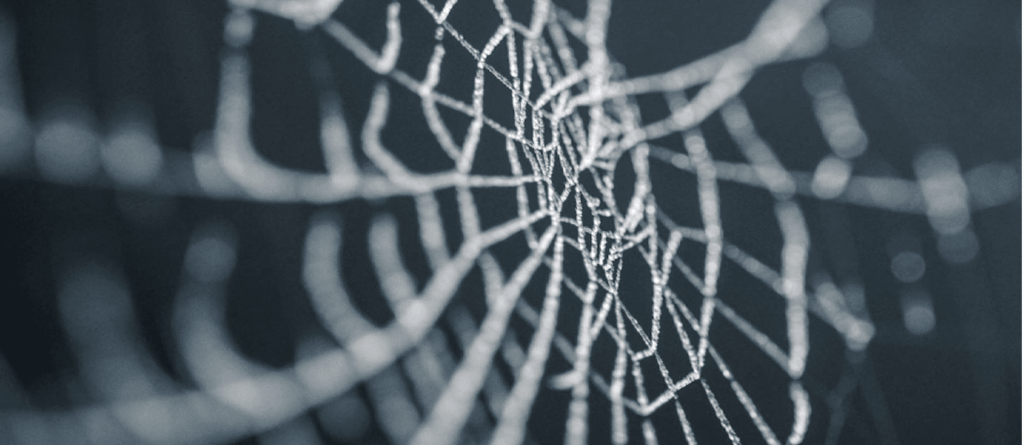 USER JOURNEY MAP
Step 1
Step 2
Step 3
Gearing up


Put on jacket

1. Insert arms into
2. Zip up
3. Fasten buckles (some jackets)

Put on gloves

1. Insert hands into gloves.
2. Fasten wrist buckles


Put on helmet

1. Place head inside the helmet.
2. Fasten helmet buckle

Sweat inside helmet and
jacket causes discomfort
Wrist pain and numbness
from supporting body
weight on wrists
Neck and back fatigue
begin to affect the user's
posture
The user's attention span
and response is
compromised by
discomfort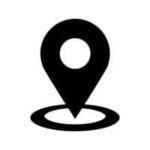 MOODBOARD
A variety of images were gathered to create a mood board for inspiration to accomplish the desired CMF and aesthetic.
IDEATION
The head and spine are the most vulnerable areas in a motorcycle crash. Sketches were developed to fulfill these success criteria.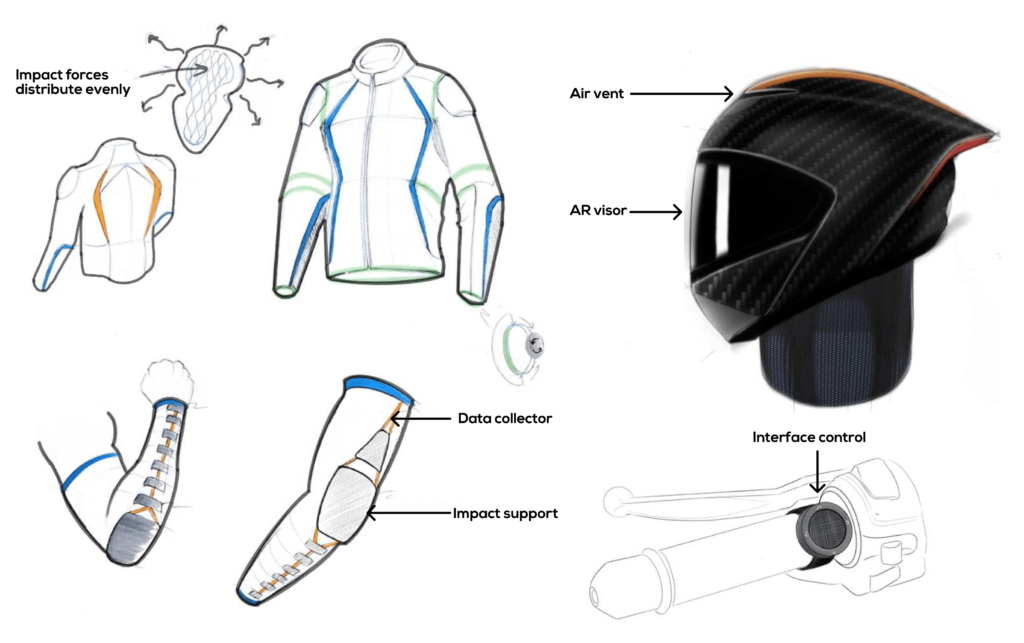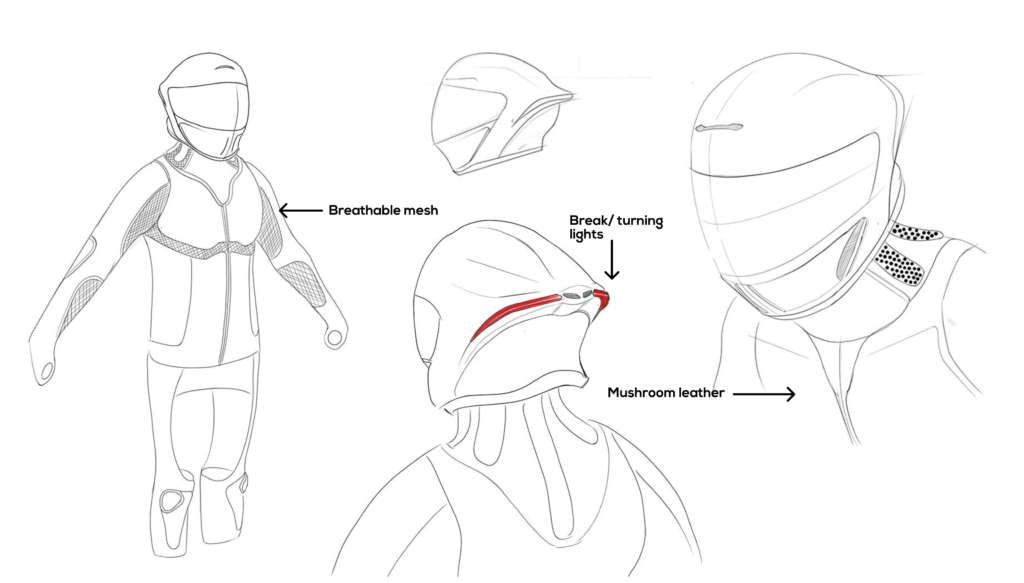 CONCEPT SELECTION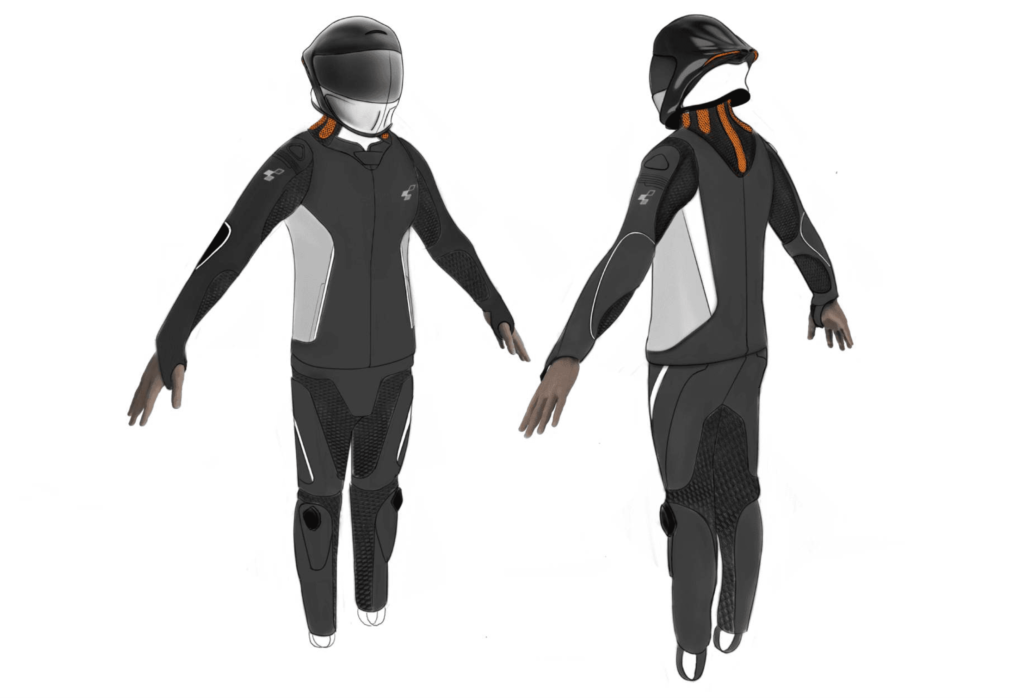 PROTYPE ITIRATIONS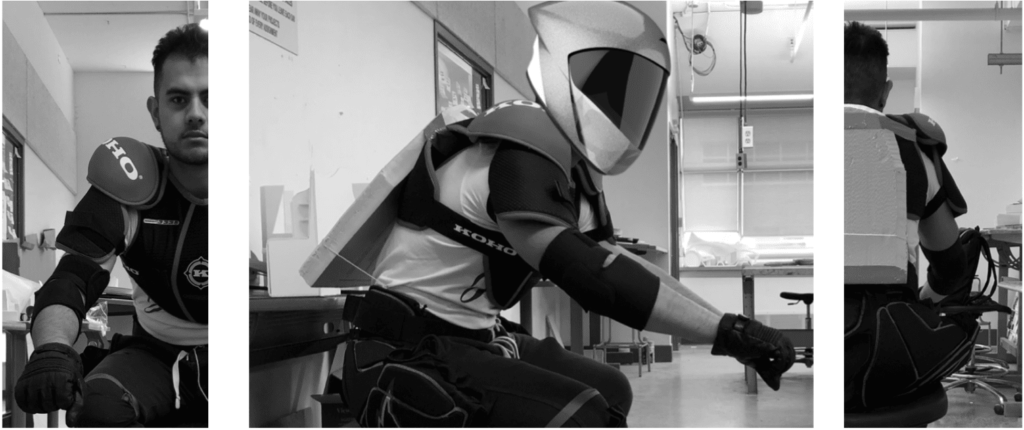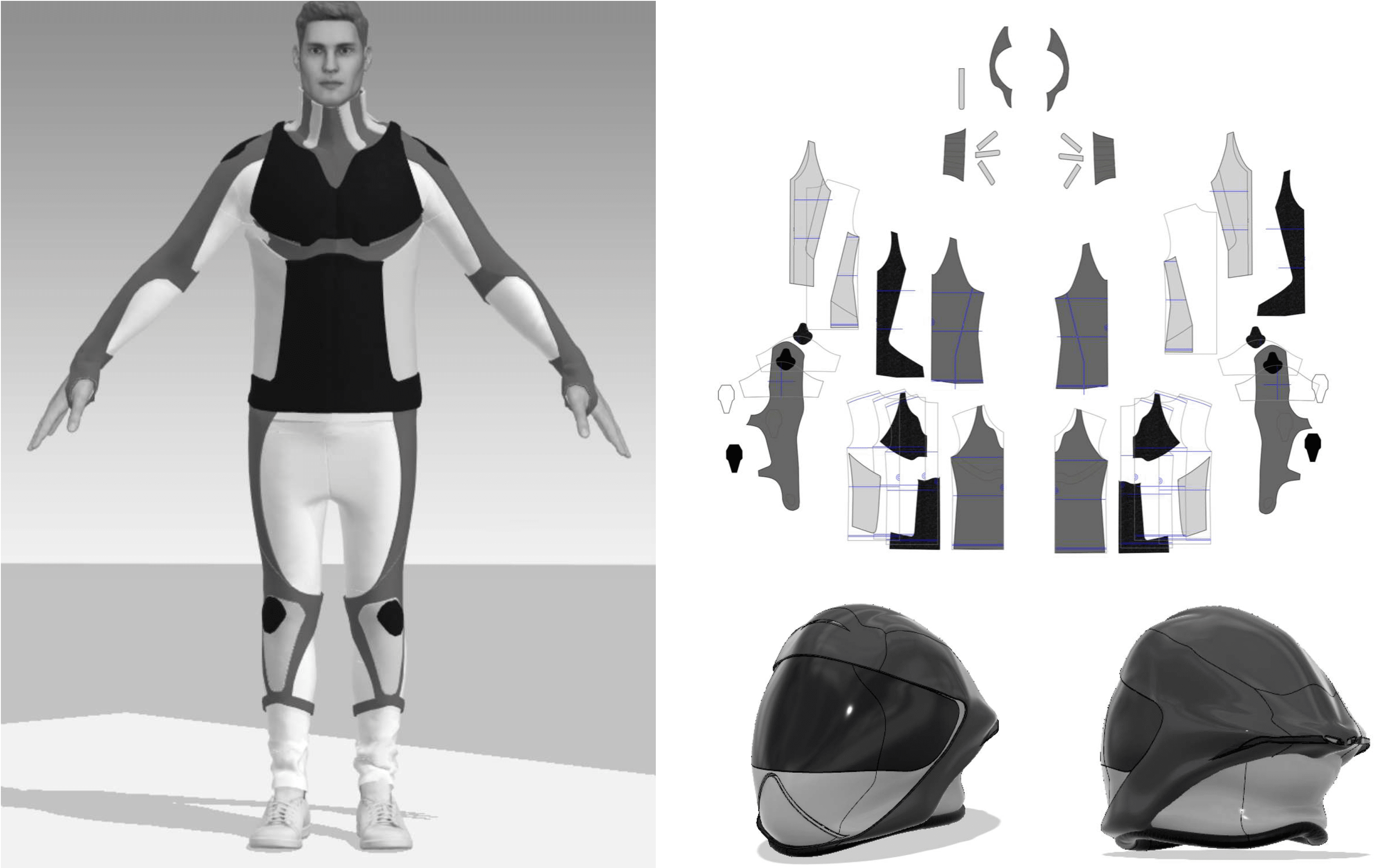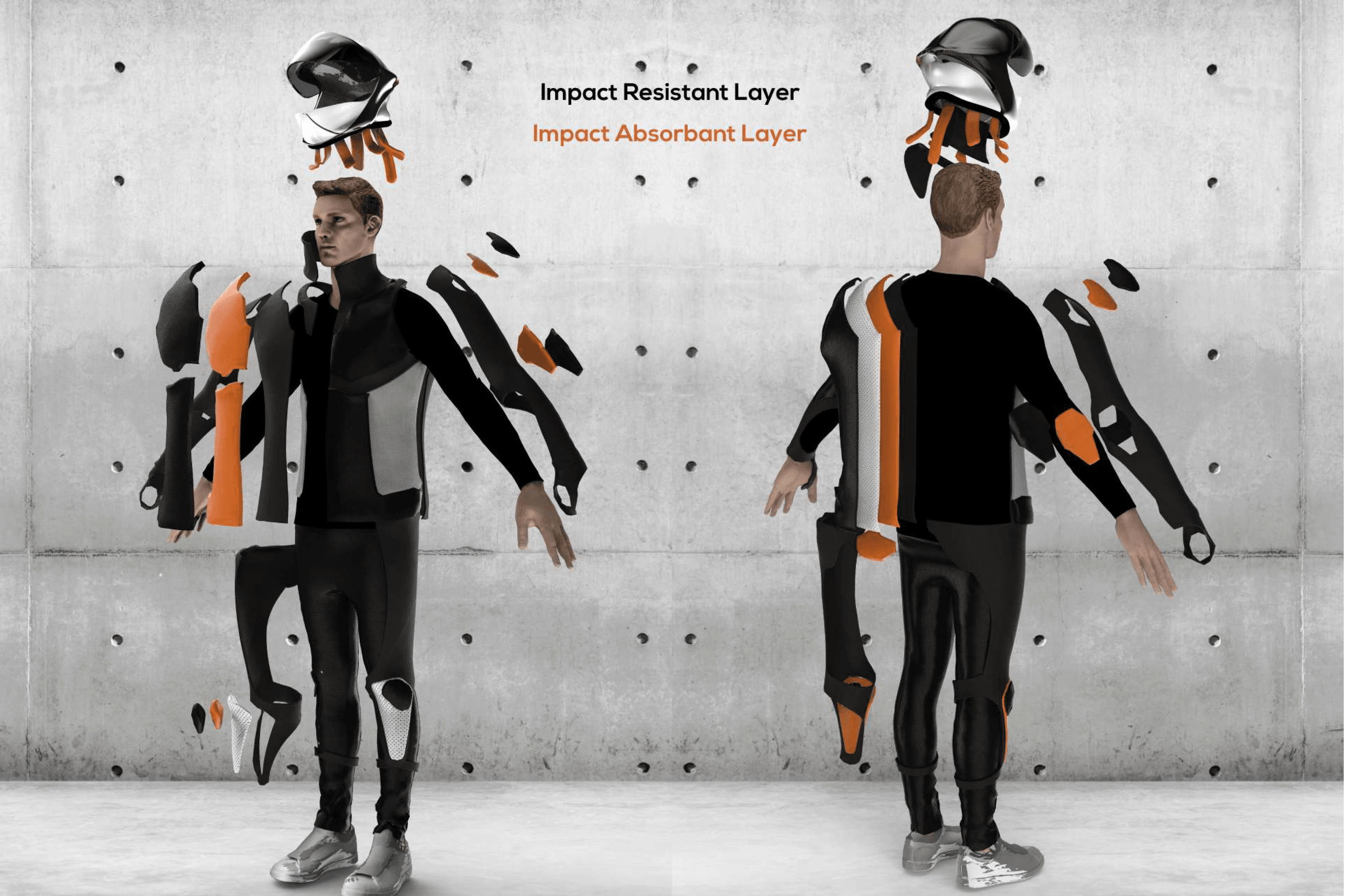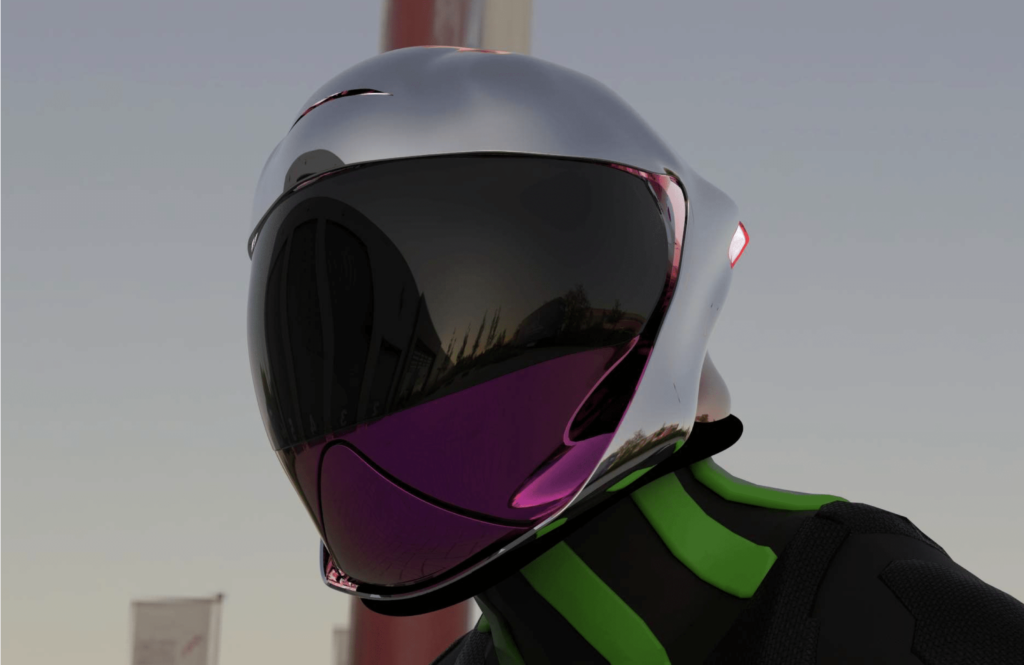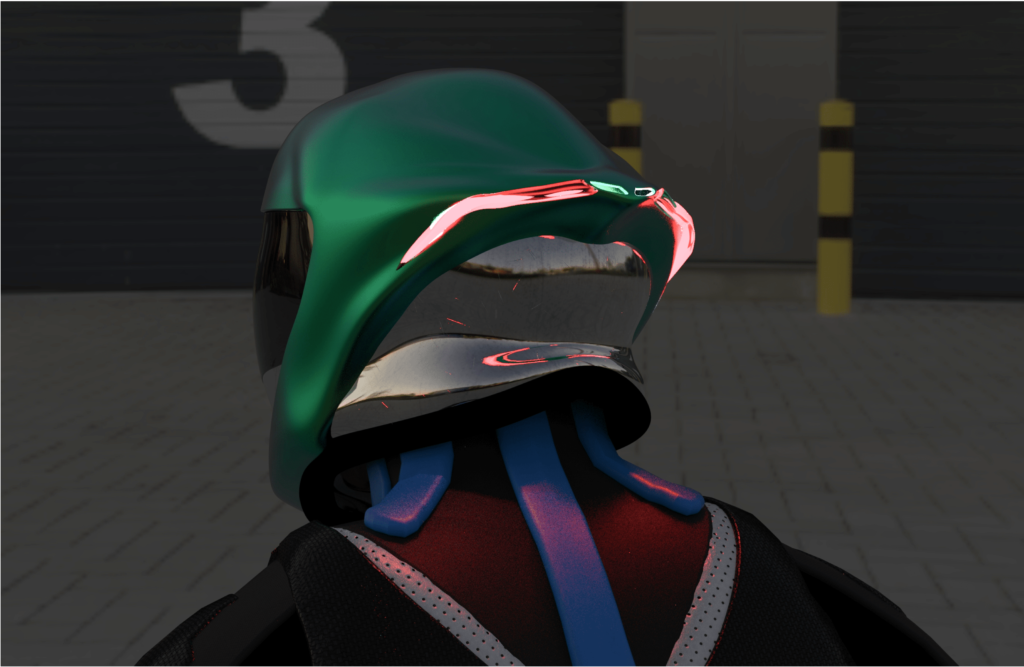 FINAL PROTOTYPE
A 1/4 scale model was made by 3D printing the helmet and using the tech pack made in CLO 3D for the garment.
CONCEPT REFINEMENT
The selected concept was further developed through more sketches and CAD iterations.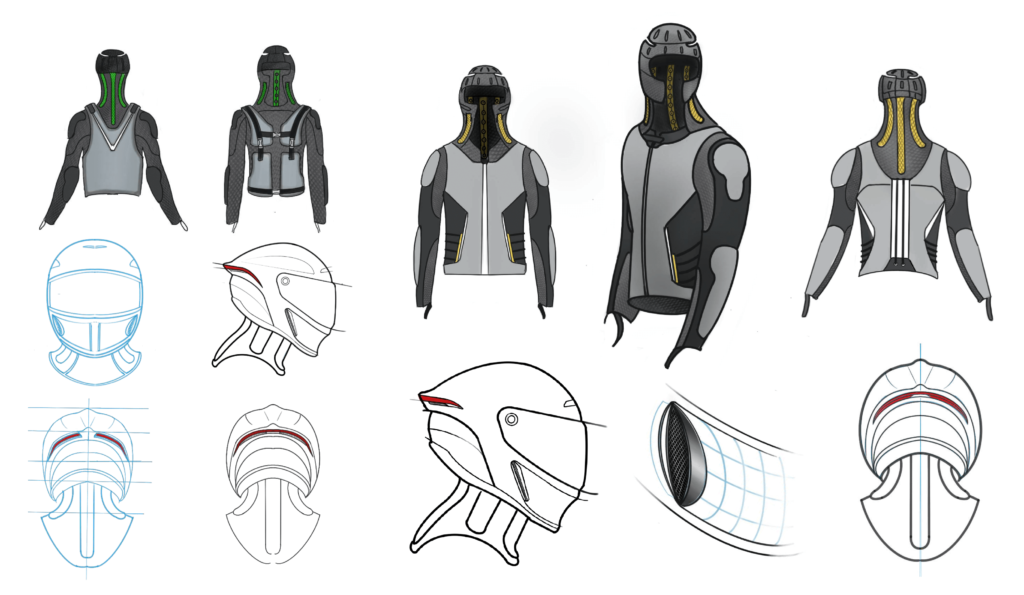 CURRENT STATUS
The following is the current outcome as a work in progress.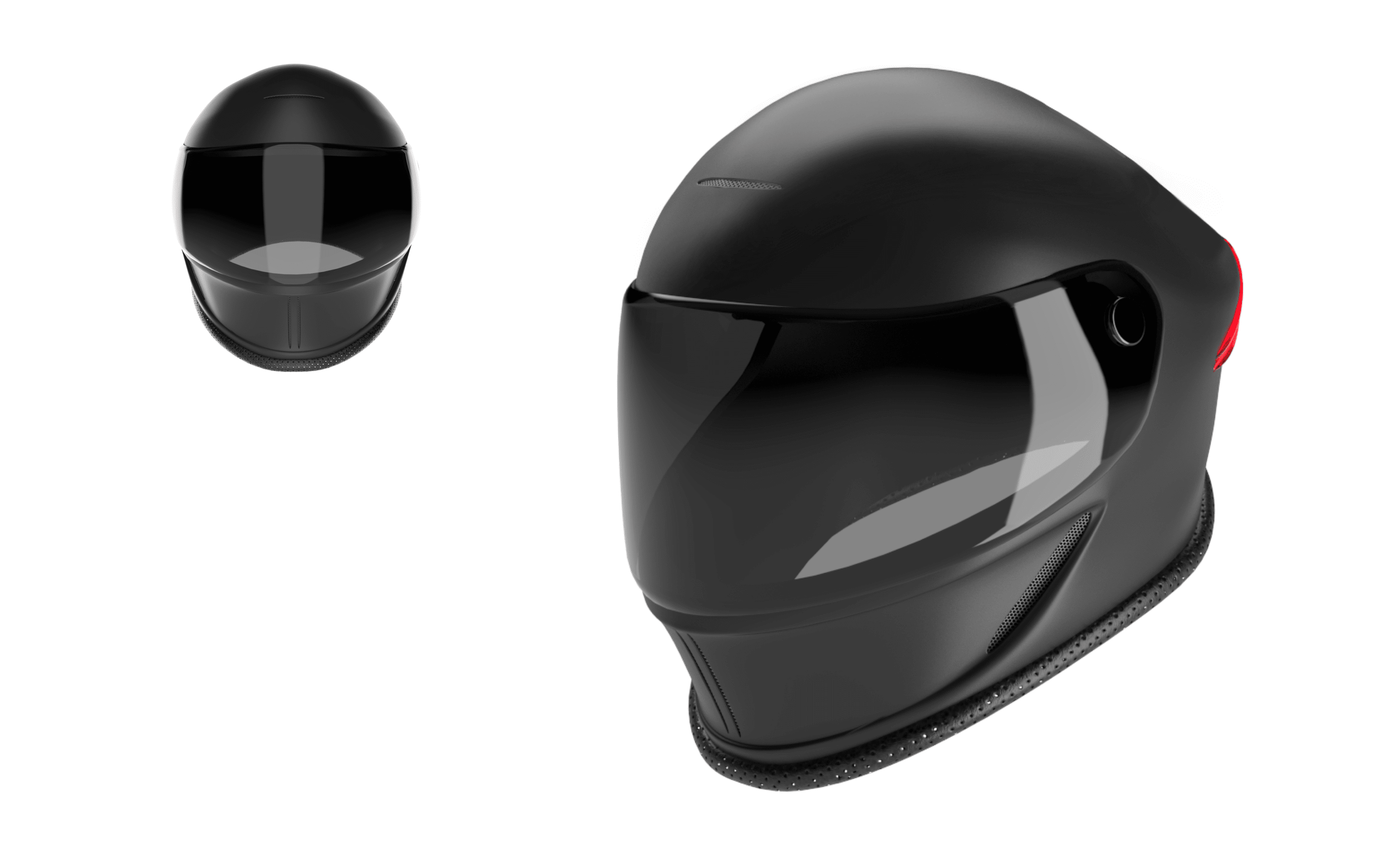 Magnets and neck brace secure inside liner to the helmet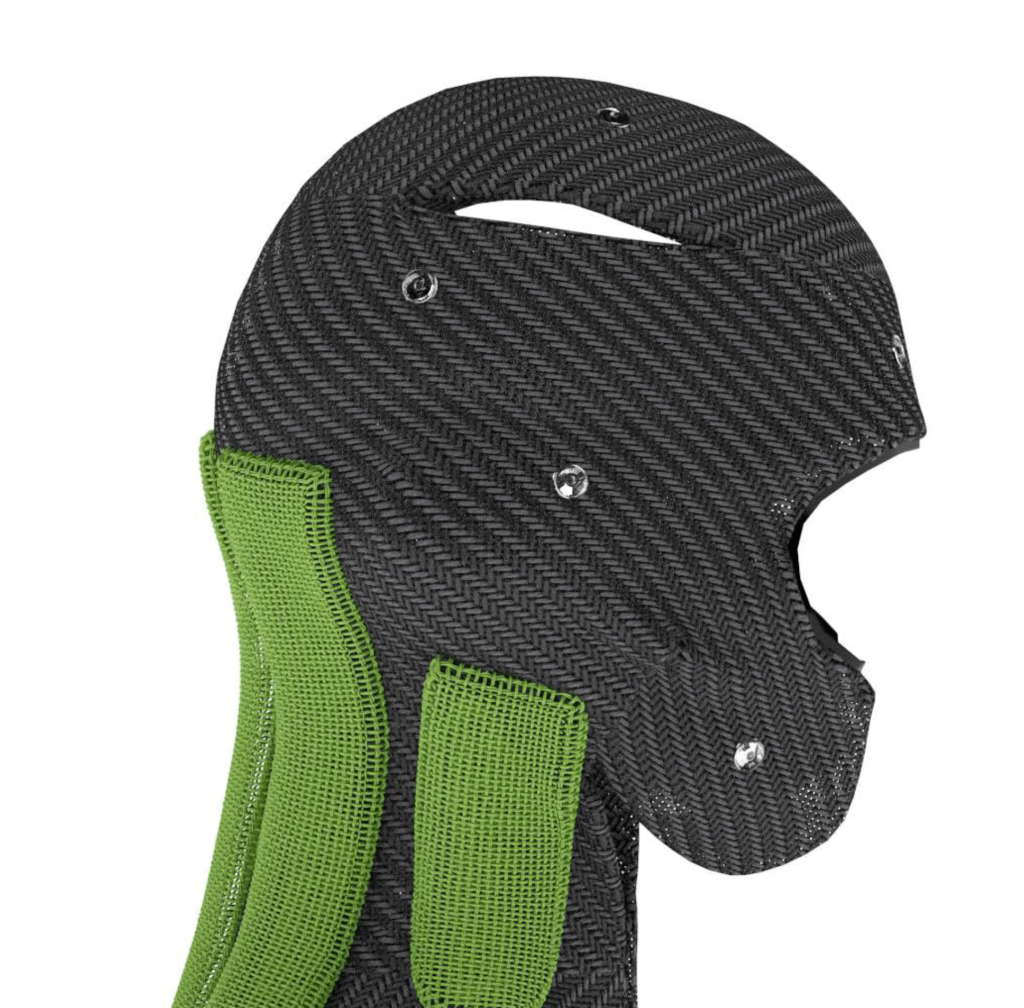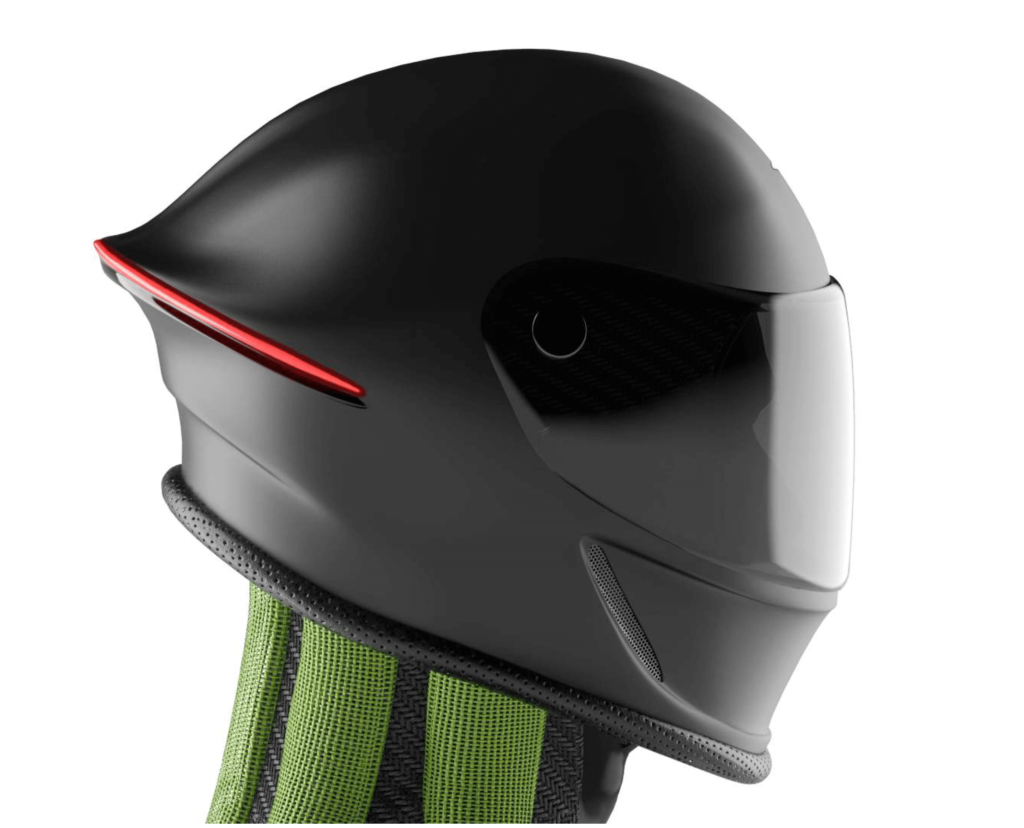 SPINE PROTECTION
Small electric muscles allow the garment to provide individualized support to the spine responding to incoming impact forces during a collision.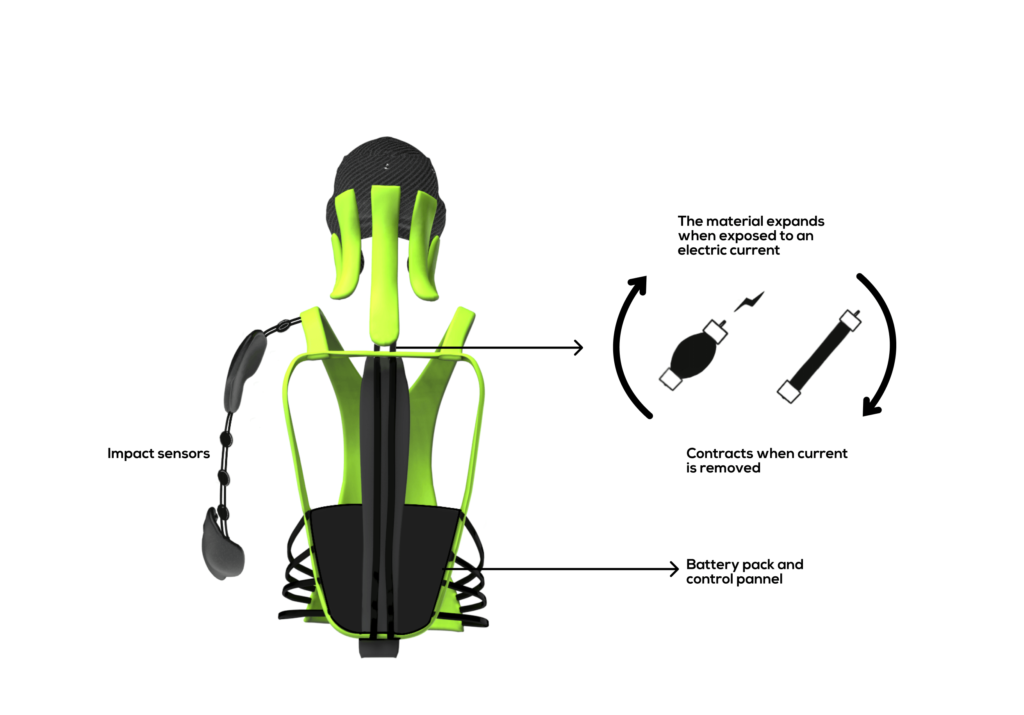 The electric muscles align with the neck and back composition to assist the user in maintaining proper posture for as long as 4-5 hours alleviating fatigue.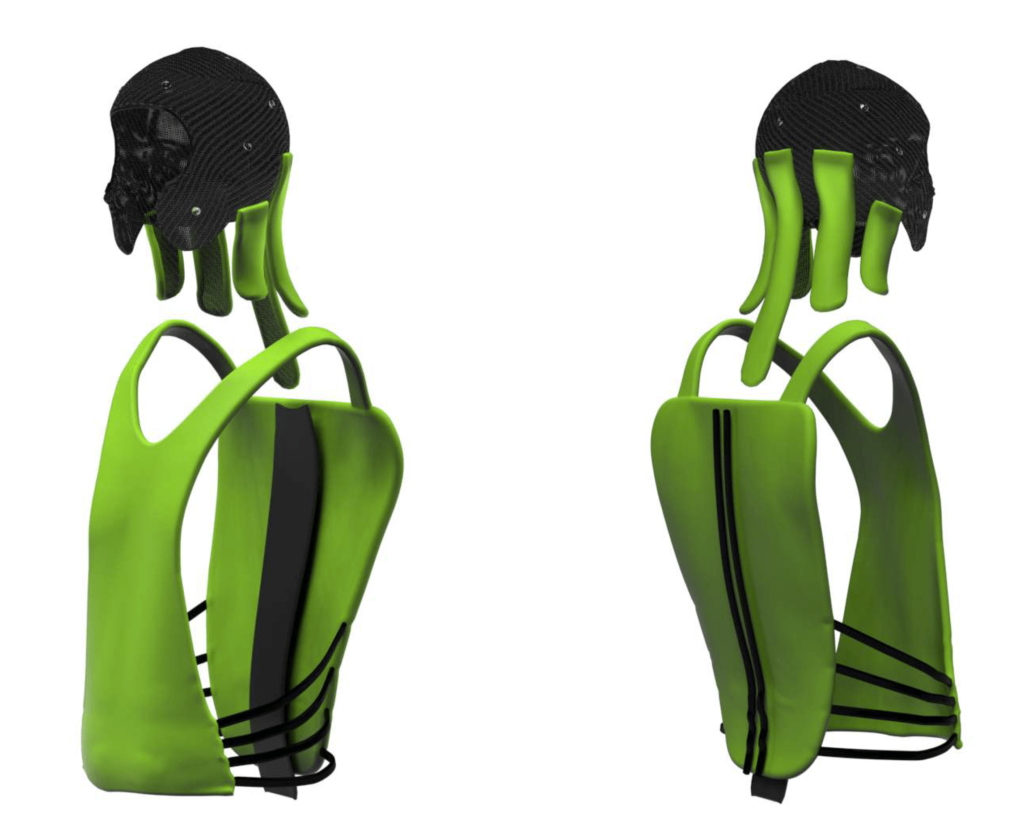 VISIBILITY TO OTHERS ON THE ROAD